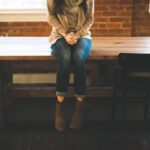 If you are struggling with an eating disorder such as anorexia or bulimia, I don't have to tell you how difficult it is to "just eat normally".
I don't have to tell you how hard it is to explain to friends and family why you are miserable but just can't stop.
You already know that having an eating disorder is miserable, consuming, and impossible to fix on your own.
You already know a lot about your eating disorder, you just don't know about recovery. That's where I come in. Not only do I have an intimate knowledge of eating disorders, I have an intimate knowledge of recovery. I am confident that I can help you know recovery as well.          
WHAT WILL THERAPY LOOK LIKE?
There are a lot of programs that follow a certain method or philosophy when working with people who suffer from an eating disorder. I do things a little differently. Every person uses their eating disorder for different reasons; it serves a different function for each individual. I believe that we need to take it slow. I don't want you to change your behaviors until we have a good plan in place to deal with the emotions that will come up. We need to have a really good understanding of how your eating disorder works in your life, and then we can work on how to change it. Some people need a very gentle approach, while others need a stronger approach. I find that somatic work, mindfulness and meditation, gestalt work, narrative work, and attachment work all have a role in recovery, and my job is to find which way works the best for you.
DOES IT SEEM WAY TOO SCARY?
I completely understand how scary it can be to take that first step and ask for help. How do you know you can trust me not to let your weight get out of control? How do you know you can trust me with your deepest secrets? I am sure you are terrified that I will try to make you give up the only coping mechanism you have, and then you will be left with nothing. I get it. As difficult as it is living with an eating disorder, it seems impossible to live without it. We will take it slow, and it will get better. We will take a few more steps, and it will be hard, and then it will get better. I will be right next to you every step of the way. We will find recovery together. I can't promise that it will be easy, and I can't promise that you won't hate me sometimes. I can promise that it will be worth every ounce of work, that I can handle you hating me and I will still be here for you, and that I will not give up on you.
HERE'S THE NEXT STEP
Why don't you come in and meet me and see my office.  See if you feel comfortable with me.  Even more important than the theoretical approach of your therapist is your relationship with them.  If you don't feel comfortable with your therapist then it doesn't matter what tools they have, it just won't work.  Call or email me and let's set up a free 20 minute consultation and see how it goes.  I promise to make it as painless as possible!
            970-988-6978     [email protected]